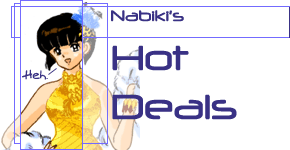 Ara. It looks like you're in for a special deal today! Everything here is f-f-free. *sigh* That's right, all of it. The only solace that I have about the whole thing is the fact that it may be amusing to see how poor Ranma and Akane react when they find out that there's all of these lovey-dovey pictures and sounds of them posted on the 'net.

One more thing: if you'd like to use either the icons or the Winamp skins on your site, PLEASE get permission from Laura-chan first!


:: Ranma and Akane's Romantic Moments ::
:: Ranma and Akane FAQ :: Nabiki's Hot Deals ::

All contents on this site are for educational purposes. No profit is being made with this site and its contents. Ranma 1/2 and all related characters © Rumiko Takahashi, Shogakukan, Shonen Sunday, Kitty, and Viz Video. This site is best viewed in 800 x 600 resolution in 16 million colors, with Internet Explorer 4.0 or higher.